While it might be hard to believe, winter is nearly upon us. However, there's no need to feel down; we've brought you 11 top winter trends that will brighten up those dark winter days and keep you and your littlies warm and cosy until spring.
1. Keep warm and exercise with your baby
As a busy parent it's easy to let your fitness routine slip. However, the demands of parenting mean it's more important than ever to look after your health, not to mention get out of the house and socialise with adults once in a while.
Fortunately, this winter it's easy to keep warm with plenty of indoor fitness classes around, including Daddy and baby dance classes, yoga, baby ballet and many more. Now getting some exercise is as simple as strapping baby into a carrier, lacing up your runners and off you go.
If you are planning to exercise with bubs in tow you'll need to make sure you have a really good baby carrier that will protect both of you.
Rhiannon Buckland from Kangatraining, Wollongong has this advice, "When exercising with your baby it's important you have a carrier that offers you and baby good support. Ensure that it supports baby's head and neck as well as their hips. And for mum's sake, be sure that it's fitted correctly."
Here are two of our bestselling baby carriers:
2: Eco-Plastic Toys
While eco-friendly and plastic might sound like a contradiction in terms, eco-plastic toys are going to be big in environmentally conscious households this winter.
While they have the flexibility and durability of standard plastic, eco-plastic toys are free of toxic chemicals and produced from recycled plastics and other environmentally friendly materials.
With eco-plastic toys you get all the bells and whistles of modern day toy design with no need to worry that your little one is ingesting toxic nasties, and the added confidence that you're doing your bit for the environment.
Looking for eco-friendly toys? Here are three of our top sellers:
3: Pink and blue are out – bring on the neutrals
Decorating the nursery is an exciting experience for any parent to be, but before you reach for the pink or blue (or yellow) paint charts, stop! There are so many more interesting colours available for nursery decoration than ever before and if you want to stay on trend this winter, it's all about neutrals and soft tones.
Andrea Lucena-Orr from Dulux has some advice on choosing paint colours for your baby's nursery this winter, "Neutral colours look beautiful in either a boy's or girl's nursery as they are the epitome of gender neutral. We're seeing soft colours used more often in children's spaces now, it's less about traditional colours such as pinks and blues."
Don't worry, we're not suggesting you do away with pink and blue altogether! Many parents are using bright, gender specific accessories to brighten up their baby's room this winter. Here are three ideas:
4. Good nutrition to banish winter sniffles
The right food is more important than ever at this time of year, thanks to the sniffles and colds that are always around, but as we all know babies and toddlers can be notoriously fickle and fussy about their food. This can lead to high levels of parent frustration when lovingly prepared meals are refused and/or hurled all over the floor/wall/dog.
This winter we're seeing a continuation of the trend towards home prepared meals as parents are increasingly aware of avoiding additives or high levels of sugar and salt in their children's meals.
If you're tearing your hair out in anguish at the mess, here are a few pieces of disaster-reducing feeding equipment you'll want to stock up on this winter:
5. Keeping warm and cosy at night
Those winter nights can get cold, and keeping your little one warm enough but not too hot is a fine balancing act. Temperature control is made harder by the fact that some babies and toddlers seem to have Houdini like abilities to get out of their bed coverings at night.
Sleeping bags are still big this winter, and there are also some fantastic eco-blankets out there that look gorgeous, are made from natural materials and won't irritate your baby's skin with harsh chemicals. For newborn babies, swaddling is still popular and you can get the best of both worlds with swaddles that double up as sleeping bags
ErgoPouch suggests the following. "For those bubs that like a little more freedom or are ready to transition out of a swaddle, the ergoCocoon has poppers in the armholes that can be used to convert from a swaddle to a sleeping bag."
Here are a few of our favourite ways to keep your little one warm during those long winter nights:
6. Night-time visibility
There's nothing like an evening walk to get baby off to sleep, but getting out and about in the pram can be a safety concern after dark, or in the low visibility of a cloudy winter day.
When you walk with a pram, the pram is in front of you and this means motorists might not see it. Fortunately we're starting to see a trend towards higher visibility on prams, with many manufacturers adding reflective piping. You can also purchase pram wheel spoke lights and night lights if you need to go walking with bub in the pram after dark.
7. Fashionable Nappy Bags
Nappy bags come in every conceivable shape and size, which is good because you and your nappy bag are likely to be inseparable for the first few years of parenting. For the sake of your own sanity you'll want to choose a nappy bag that you absolutely love.
There are heaps of great styles out there, from cutesy to functional, sleek and stylish. While they aren't hugely popular at the moment, backpack style nappy bags have a great deal of ergonomic advantage and they are starting to see a revival this winter.
Here are some of our best selling nappy bags: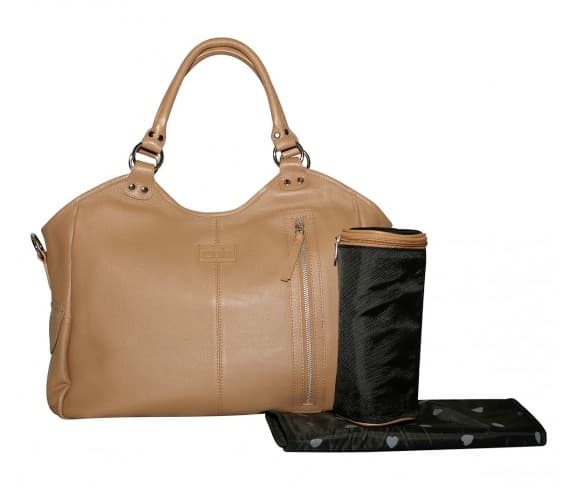 8. Push Presents
If you've never heard of a push present, it's a gift that mum or mum-to-be gets from her partner in appreciation of her carrying and giving birth to bubs. Push presents have become more popular in recent years and they can be anything from jewellery to high-end prams and baby items.
Not everyone wants a push present and they can be quite controversial - after all women have been giving birth to babies for years, and isn't having a beautiful new baby enough of a reward?
If you're looking for inspiration, here are a few popular ideas for push presents:
Jewellery
Massage/spa voucher
Luxury baby goods - think high-end pram or a rocking chair for the nursery.
9. Thermometer
With the weather getting chillier, we know that the risk of getting ill gets greater. However, little sniffles can not be avoided even if you are trying your hardest. As such it's always a good idea to have a reliable thermometer handy. Regardless of which type you choose, always read the instructions to ensure you know how to use the thermometer correctly and get the most accurate reading. If you're unsure, get your doctor to show you the best way to use the thermometer.
Oricom has a Non-Contact Infrared Thermometer that is multipurpose, hygienic, with no probe filter and a colour coded reading. It's also included as a medical device on the Australian Register of Therapeutic Goods (ARTG 279076).
* Oricom HFS1000 Non-Contact Infrared Thermometer
10. Indoor birthday parties for winter kids
Summer is an easy time to host a baby or toddler's birthday party but winter can be more of a challenge. If you have a winter baby or toddler the only options can be an overpriced playcentre, or letting 10 hyped up two year olds trash your house. Neither option is necessarily appealing.
There are some great ideas for indoor birthdays where your little ones and their friends can have a great time and burn off energy when the weather is cold and wintry outside. Here are a few ideas:
Indoor camping - pitch a tent in the living room, ask your guests to bring their sleeping bags and give everyone a torch. Don't forget the smores!
Indoor beach party - fill a paddling pool with balls to make your own mess free 'beach,' lay out towels and put up beach umbrellas and get everyone to bring their favourite beach toys.
Hire a strobe light and get some glow sticks and host a disco on one of those long winter evenings.
11. Staying warm while looking cool
Staying warm is important in winter, and it's important that bubs is well layered up. Fortunately, keeping warm doesn't mean your baby or toddler can't look stylish in the process.
There are some great winter fashions around this year, from distressed denim (easy to achieve with a toddler!) to cosy lumberjack shirts and girly pinafores. Wrap your little one up in a soft cashmere jumper and he or she will be trendy as well as toasty warm.
These are just a few of our top recommendations for this winter. Keeping your little one warm and looking stylish has never been as easy or as much fun!