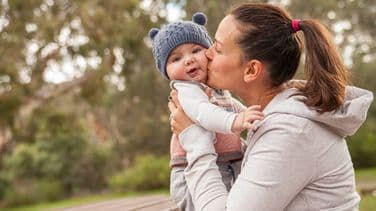 You're home from hospital, and have started settling in. Now onto your next challenge... getting out of the house with your new baby.
The mere thought of taking your little one out into the big wide world, and surviving without the comforts of home can be very intimidating. Let's face it, you're most probably sleep deprived – also still learning the ins and outs of feeding be it breast or bottle, nappies, understanding baby's cries… the list goes on. But at some point you need to escape your home and re-join the world. With some pre planning and patience, this can be a wonderful experience and will lay the foundation for many more great outings together.
Make sure you allow lots of time to get baby and yourself ready to head out. Something will always come up just before you are ready to head out the door – a nappy change, last minute feeds, changes of clothes or baby could simply decide that it's nap time here and now.
On your first outing – try and keep it simple. Not too far from home in case you need to get back in a hurry. A trip to the local shops is a great idea. Or down to your favourite walking track for a quick stroll in the sun.
Packing your Nappy Bag.
The nappy bag pack for a newborn is usually as full as you'll ever have it. You pack for every possible scenario, which is just fine. Make a list, and keep it somewhere handy – so you can refer to it as you need to.
A list may be:
Nappies
Wipes
Scented nappy bags (for the dirty nappies)
Bottom cream
Portable change mat
Changes of clothes
Formula in dispenser (if bottle feeding)
Bottles – filled with water ready to mix with formula (if bottle feeding)
Bottles – filled with breastmilk (if you're not yet comfortable breastfeeding in public)
Breast feeding cover – if you feel like you want a little privacy
Blanket
Bibs
Dummies
Hat for baby
Spare top for mum – in case of a major spit up.
Hand sanitiser
Breast pads
Sanitary pads
Know your pram – practice with baby – or with one of baby's teddies. Learn how the harness and buckles work, how to adjust the back between lying down and sitting it up. Know how to unfold and fold your pram, how to adjust the handles, change the pram to forward facing or rearward facing. Knowing how your pram works will lead to one less head ache when you're out and about.
Also, make sure you take along your baby carrier or sling. There are so many times you'll be out and see mums or dads pushing around an empty pram, while baby is being carried. Having your baby close to you, helps to calm and settle them. Being able to put them in a carrier not only will soothe them but you'll know that they're safe from harm. You'll also be able to keep both of your hands free to push the pram. Carriers and slings are also invaluable when it comes to grabbing a few groceries. You'll be able to push about a trolley and grab those essentials using both hands.
Baby carriers like prams take practice. Take the time to know your carrier and how it works before you need to use it in an upset baby situation. Practice at home with baby or baby's teddy bear so you know how to safely and comfortably secure baby into their carrier.
Things can happen with baby's – being unpredictable as they are, so if it's possible, know where the closest parent's room is, to allow you to change a nappy, warm a bottle or feed baby if you feel more comfortable away from the hustle and bustle of crowds. Also, don't forget your own needs. Not every bathroom will be pram friendly. Keep an eye out for these important areas when you are heading out.
Get out there and enjoy your time together. Whilst it may be disconcerting at first, pushing your new baby around and showing them the world is a beautiful experience. So get out there, grab some fresh air, enjoy a coffee and be brave – you're a fantastic mum!
For any questions, tips and advice please contact the team @ Baby & Toddler Town.