AfterPay
Shop Now, Pay Later, Interest Free*
Baby & Toddler Town are pleased to introduce a new payment option to you. Afterpay offers interest free payment plans for your Baby & Toddler Town online purchases.
Get approved instantly and securely, buy what you want today, receive your order just as normal and pay it off in four equal, interest free instalments fortnightly.
No long forms or detailed personal information. Afterpay simply uses your nominated bank card to process your application on the spot.
Shop on our website and pay for your purchases over four simple installments.
You do not need to pay anything extra, as long as you pay on time.
There is no need for a new credit card application, your account will be approved instantly online.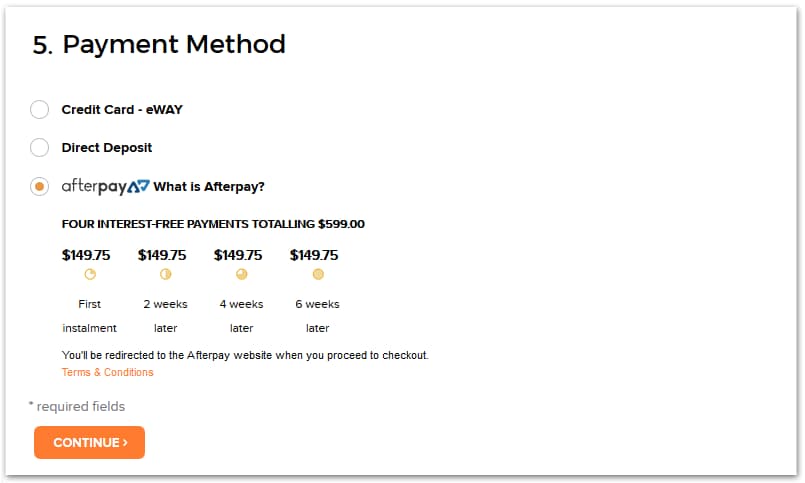 1. How Does It Work?
4 Equal Instalments every 2 weeks.
0% Interest on your entire order.
2. What do i need?
A debit or credit card.
To be over 18 years of age.
An Australian residential address.
To see Afterpay's complete terms, visit https://www.afterpay.com.au/terms.
3. How Do I Pay By Afterpay?
Simply add items to your shopping cart and go to the checkout. Afterpay can be used on any order with the purchase amount in between $100 - $1000.
Select Afterpay as your payment method.
You will be redirected to the Afterpay site.
Register or login to your Afterpay account and confirm payment using a valid credit or debit card that your Afterpay instalments will be deducted from.
4. Enjoy your purchase!
Afterpay takes care of the rest. Afterpay will remind you when payments are due and will process your payments automatically. Next time you use Afterpay, we'll have all your details saved and ready to go!
Once you select Afterpay as your payment method, all payments and transactions are made directly with Afterpay. If you have any issues regarding your payments you will need to contact Afterpay.
* Important information:
Afterpay is available for Online Purchases Only.
Afterpay is an interest free payment plan option.
Transaction value limits apply to Afterpay purchases made at Baby & Toddler Town; the purchase amounts are in between $100 - $1000.
The funds for the first payment must be available on your nominated card at the time of checkout.
For first time Afterpay customers, or customers yet to complete a full payment cycle with Afterpay, the first payment will be taken at the time of transaction with the remaining three payments deducted each fortnight over the remaining 6 weeks. For all future payments after the first completed purchase, the initial payment will be debited 14 days after the transaction, where the total transaction value is less than $500. If the purchase value is equal to or exceeds $500, the first instalment must be paid at the time of the transaction occurring.
If you wish to return your goods, Baby & Toddler Town's normal returns policy applies. If eligible for a full refund, your initial payment will be returned in full and the remaining payments cancelled at no charge.
When you link your Afterpay account to a credit or dedit card, please be aware that standard fees and charges may be applicable. Please refer to your card issuer's terms and conditions for full details.
If a payment is due from you but not received by Afterpay in accordance with the payment schedule, a $10 late payment fee will be charged, with a further $7 late payment fee added seven days later if the payment remains unpaid.
Afterpay is operated by Afterpay Holdings Limited, listed on the ASX.