Finding out you are pregnant is a big deal! The way you found out might have been just the way you always imagined, it might have been a long time coming, or it might have been a total shock. Either way, here you are, in your early stages of pregnancy and in the process of poking around baby stores and blogs to find cute ideas of how to share your recent (huge) news. Baby & Toddler Town want to share in the moment with you and pass on some ways to announce pregnancy that we LOVE. These are a mix of cute baby announcements you can use to share the news of your pregnancy or your baby's sex.
Movie Buff Pregnancy Announcement
You may be the kind of couple who are big fans of [insert geeky film obsession here] and people will find it uniquely "you" if you announce your baby or the baby's sex by referencing your favourite film. Whether it's for a party or for your social media announcement, there are some seriously cute ways to announce your pregnancy using movies.
Use the force to spread the word and let it travel at the speed of light:
DIY magical set-up for a Harry Potter themed social media baby announcement post.
Star as the leading lady or fellow in your movie-themed baby announcement.
Getting all Chalked Up.
Have you got a brick wall and some big news? Why not grab some chalk and get creative? Here are some fun ways announce pregnancy using chalk for the reveal. These are great for snail mail or social media messages.
Line 'em up.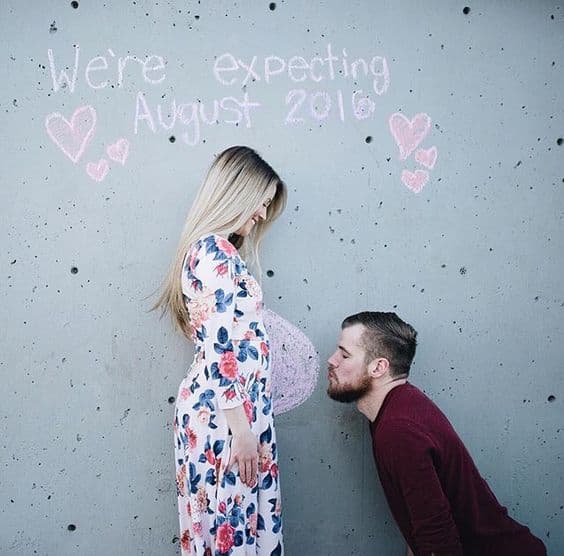 The optical illusion.
Caution: Petty Arguments Regarding Wall Colour To Come.
(well, at least Baby & Toddler Town have your back with the stuff that lives behind the door...you're welcome in advance!)
The personal touch.
Revealing you are pregnant to your partner or close family is something you might want to handle in a more personal way. How can you do the big reveal in a way that will ensure the memory lasts forever?
It seems that there is something very special about a simple and heartfelt little note to accompany an obvious but time sentiment.
In the box.
Casually hand your parents a little box and wait for their mouths to drop open and the shriek from one (or both) of them. You won't have to say a word - you can just take it all in.
Stick to the point
It seems a popular to reveal to your partner is to show them that... umm... that the proof is in the pee. I guess you don't have to say much at all in this case because it basically speaks for itself and if you can get past the pee stick - it's actually a pretty cute idea.
DIY News
Having the family around to give them all the big news? Or doing individual drop-in visits and don't want to come empty handed? Personalised labels with a sweet little message, is a great way to share the news and create a keepsake with a personal touch.
Fur Babies:
Got pets? This news is going to affect them too. Since they are a special part of the family, why not let them share in the excitement? Get your fur babies to do your cute baby announcement by getting a little creative and setting them up in a shot where they look adorable and totally oblivious. Poor little things have no idea what's about to hit them! (awwww)These ones speak for themselves…